Fatoumata Diawara Drops New Album 'London Ko'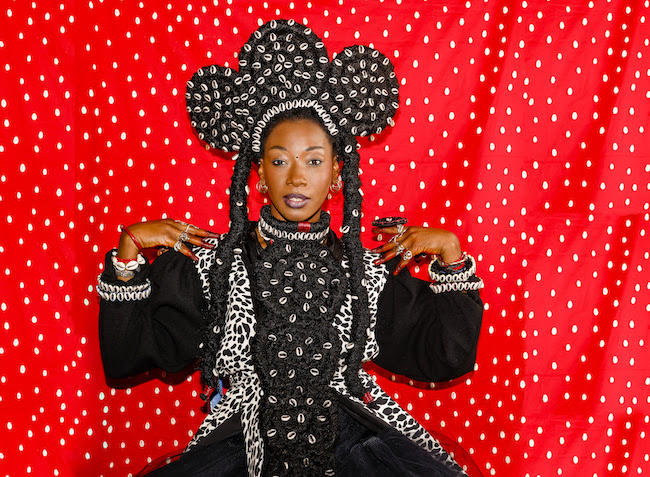 Fatoumata Diawara has today released her new album 'London Ko' through Wagram Music. Co-produced by Diawara, Daniel Florestano and Damon Albarn, Fatoumata continues to reinvent traditional African music on 'London Ko', having taken us back to her Mandinka roots in recent projects such as Maliba and Le Vol du Boli with Abderrahmane Sissako. 'London Ko' features a host of guest musicians, including Damon Albarn, Angie Stone, Roberto Fonseca, M.anifest, Yemi Alade and -M-.
Still rewriting the rules, Fatoumata plunges us back into her eclectic, avant-garde universe. With the different styles and approaches she brings to her music (afrobeat, jazz, pop, electro and even hip hop), 'London KO' is an album that's impossible to categorise. "I put all my love, my soul and my body into the creative process for this album," she says.
Sharper than ever lyrically, Diawara strikes a perfect balance between contemporary synthetic sounds and traditional Malian rhythms. The track 'Dambe' (roughly translated as 'the values of tradition') clearly sets out her intentions as an artist: to present fresh ideas and reinvent herself. Adept at shifting between avant-garde styles and tributes to her ancestors, the mixture of genres can be understood as a means of emancipation. Fatoumata also plays with geographic spaces, as we see in the title of the album, 'London KO'. It's a neologism that's also symbolic of her collaboration with Damon Albarn, which gives rise to a new world, a fusion of Bamako and London. A nod to the richness of mixing cultures and of being open to the 'other'. A true connoisseur of African music, Damon Albarn co-produces and performs on six of the fourteen tracks. As Diawara reflects, "For me, 'London KO' means opening your mind. It also represents Damon Albarn's connection to Malian music."
Hailed as one of the most vital standard-bearers of modern African music, Fatoumata Diawara's music remains hard to classify: Afropop, Afrofolk, Afrofutursim. Somewhere between tradition and modernity, guitar in hand, she mixes wassoulou rhythms and West African vocal techniques with contemporary sounds.
Her Grammy-nominated second album 'Fenfo' was released in 2018 to universal critical acclaim. Diawara has previously worked and toured with some of the biggest names in contemporary music, including Bobby Womack, Herbie Hancock, Damon Albarn, Sir Paul McCartney, David Crosby, Amadou and Mariam and many others. She continues to pursue a successful career as an actress, including an acclaimed appearance in 2014´s Timbuktu (Le chagrin des oiseaux), which received both BAFTA and Academy Award nominations. Fatoumata, who won 'Best Female Artist' at 2020's African Talent Awards, has also co-starred in Damon Albarn and Abderrahmane Sissako's theatre project 'Le Vol du Boli'. Last year, Fatoumata released 'Maliba' a collaboration with the Google Arts & Culture platform. The seven new songs formed the soundtrack to a special online presentation of the legendary Timbuktu Manuscripts, which celebrated centuries of Malian culture.
On 'London KO' Fatoumata creates new imaginary worlds, as illustrated by the first track 'Nsera' and the vibrant accompanying video by Gregory Ohrel. This is an artist who understands the true value of the graphic universe. Diawara presents an uncomplicated relationship with Africa, dismantling the unconscious collective stereotype of the continent and its diaspora. Her aesthetic invites us on a cosmic journey, moving through myth into reality.
Drawing on the numerous global collaborations that have shaped her journey so far, Fatoumata continues to invite special guests into her world, including rising stars from the African continent in Ghanaian rapper M.anifest on the track 'Mogokan' ( meaning 'gossip') and Nigeria's new voice in Afrobeat, Yemi Alade on 'Tolon' (a call to celebration). On 'Somaw' we find African/American neo-soul pioneer Angie Stone singing about the pain of distance. On the track 'Blues', Cuban piano virtuoso Roberto Fonseca pays tribute to those we don't see. Fatoumata also reunites with her old touring partner -M- on two songs, including 'Massa Den', an ode to love. On the track 'Sete', their resounding praise of women is elevated by the Brooklyn Youth Chorus, a choir made up of children from all backgrounds.  On 'London KO' Fatoumata Diawara's music conjures a prophetic vision of what Africa can do. She invents an alternative space and time where it is possible to become master of your own destiny. Positioning herself as an actor in a future world, this album raises Fatoumata Diawara into the ranks of the great voices of Afrofuturism.