Experimental collective IZANGOMA release their debut album 'Ngo Ma'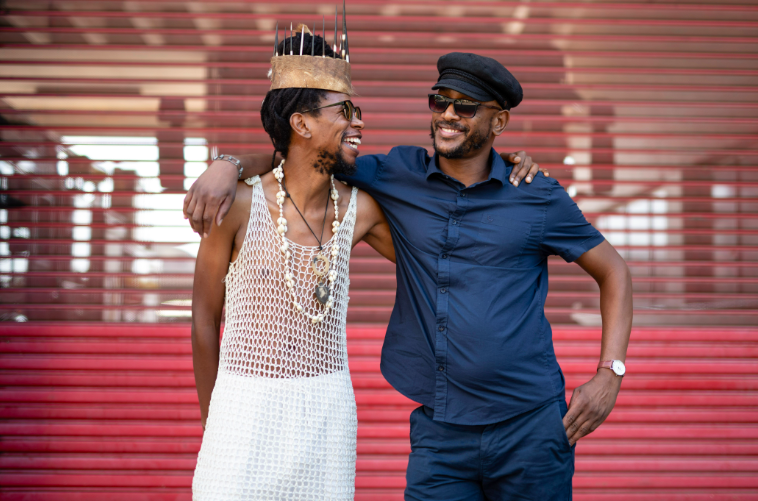 IzangoMa, a 15 piece experimental collective hailing from Pretoria, South African, today release their debut album 'Ngo Ma' via Gilles Peterson's Brownswood Recordings label.
Although IzangoMa's debut may only be reaching us now, the avant-garde collective's roots stretch back to the meeting of core members Sibusile Xaba (vox/keys) and Ashley Kgabo (synths/snare drum/drum machine) in 2016. It was a galvanising connection which allowed Xaba to begin cultivating a different side to his virtuosic talent, one at cardinal opposites with the familiar folk sound the largesse knew him for. 
IzangoMa are Cosmic sgubhu with the alchemic powers of Sun Ra mixed with township styles ranging from pantsula to bubblegum. 'Ngo Ma' – which loosely translates from Zulu to English as 'by my mother' – explores themes of Creation as seen through the all-knowing feminine energy that transcends time and space. This is rhythm music; it spills into crevices ever-evolving, and revolts against a revolution yet to be finalised.
The ensemble is a link-up of Mozambican and South African musicians – says Sibusile; "I had this idea of working with my students from Mozambique. When I first met them [during exchange workshops], they were young men. We'd return every year to find these great human beings growing into these phenomenal musicians. We felt like it would be nice to incorporate them into this thing that we were doing." Fittingly, the future-forward 'Ngo Ma' is a collective effort – while the duo of Xaba and Kgabo forms the backbone, it's the kaleidoscopic collective which feeds into the cycle that expands each time, adding something new on each iteration.
"It's never effort; it's always joy," says Ashley, reflecting on the fluid nature of how ideas find them while they're jamming to the tunes of their own creation, to which Sibusile adds: "Even this idea of this music being a voice of remembering the feminine energy — that wasn't there. It developed as the music was leading us. And funny enough, every song is talking about mothers. This wasn't something that we planned."
'Ngo Ma''s title track is a cry to The Spiritual Mother about the discordant lives that many people lead. Here, the elders are given a voice by a resonating horn section, while the tempo is kept afloat by a lively, polyrhythmic hop between the Roland TR-8, the MOOG Minitaur analogue bass synthesiser and percussion. Elsewhere, Kwaito-influenced 'Wathint' Imbokodo' takes its title from another Nguni phrase which translates as "You strike/touch a woman, you strike/touch a rock". The off-beat 'Out of This World ', meanwhile, is a buoyant hymn to Mother Earth, where Sibusile's MC-esque calls are flanked by Marabi-influenced walking piano motifs and the handclaps of a Roland TR-8.
"Le Nna Mfana" – meaning 'me too, my man' – is what happens when Nyabhingi drum riddims escape to the future. It spells freedom for the Black universal imagination, and pleads to African people worldwide to look beyond the daily shackles of Capitalism, chains imposed upon by systems not of their own construction. On the freewheeling 'Tribute To Johnny Dyani', IzangoMa hail the legendary Blue Notes bassist & Don Cherry-collaborator for his musicality but also for his efforts to promote emancipation as a member of a mixed race band under apartheid. The track also recognises the many creative SA communities which have fed into the band's journey.
Propelled by an ARP Odyssey duophonic synthesiser, "Birds (Of A Feather)" is frantic, searching, surfing — a shroom trip laced with ones and zeros. It has neither beginning nor end, only a constant seeking — for truth, for satisfaction, for more. Sibulsile and Ash observe; "It recalls visions of ones who existed before time; the very First Nations of this land we call Southern Africa, with all its combinations and permutations, all its complexities laid bare for all to 'ear". Method is eschewed in favour of madness, and that's just how the band digs it.
Listen to 'Ngo Ma' here.
Musicians
Sibusile Xaba – Vocals & Keys
Ashley Kgabo – Synths, Snare drum & Drum machine
Khanyisile Mtshobile – Vocals
Neo Erasmus – Vocals
Fakazile Nkosi – Vocals
Malusi Masia – Alto & Tenor saxophone
Jack Mcwabe – Trumpet
Mthokozisi Mazibuko – Congas
Yao Agbodohu – Djembe
Soares Bruno – Maraca shaker
Omar Machava – Cow Bell
Virgilio Faruk – Guitars
'